Monitoring and Fast Support by Experts
We are there for you when you need us. And we are there for you also when you do not know that you need us. Our vision is to bring you WordPress as a service, not just as software.
Table of contents
Philosophy Behind Seravo
Behind the optimized server environment to make your website fast and secure, there is the power of real people doing hands-on upkeep.

Ease of Mind for Our Customers
Seravo will own the responsibility of keeping your website functional.

Giving Back

We invest our time and resources into several causes that make this world a better place for all.

Constant Innovation
"The arrogance of success is to think that what you did yesterday will be sufficient for tomorrow." W. Pollard
WordPress and Open Source Enthusiasts and Active Contributors
From our systems administrators to our customer success agents, we all live and breathe WordPress. We regularly sponsor and attend WordCamps, actively organize and participate in local meetups right here in Tampere, Finland, and contribute to WordPress and the open source community.
Seravo has a strong background in Linux and other open source software. We are an active member of the open-source community, both in Finland and abroad, and have participated in developing various open-source projects.
We have been involved in:
Providing support to Linux users.
Contributing to and translating the WordPress core.
Publishing WordPress plugins.
Participating in the WordPress community as sponsors, speakers, organizers, and participants. Seravo has attended and sponsored meetups in five different cities in Finland and sponsored and participated in every Finnish WordCamp so far. Seravo also sponsors and participates in similar events abroad.
Developing a wide range of other open-source software. You can find code by our staff around the world in applications such as the Linux kernel, Docker/Moby, Nginx, MariaDB, AppArmor, GraphicMagic, Entr, Redis, Debian, Ubuntu, Helpy, wp-cli, and more.
Contributing to the MariaDB development, as well as hosting the MariaDB.org website.
The Finnish Centre for Open Systems and Solutions (COSS) as a member.
Speaking at and sponsoring Mindtrek, an international conference dedicated to open technologies.
Supporting Finnish coding and quality as a member of Code from Finland.
Sponsoring and financial support
We have also made financial contributions and provided volunteer services to support numerous open-source projects and events such as:
Moreover, we support a Finnish coding club for children, and Seravo's President and CEO Otto Kekäläinen is also a chairman of the board of Fuugi's Foundation, which grants donations to Finnish open source and data projects each year.
In 2019 we were actively involved in organizing the first-ever Nordic WordCamp in Helsinki in early March. Seravo was a gold sponsor for the event. Two members of our staff were in the organizing team volunteering, and several others participated in the event as a contribution to the community of WordPress.
We also attended and sponsored WordCamp Europe 2019 in Berlin during midsummer. The event was the single largest WordCamp ever held, with over 3000 tickets sold and more than 2700 attendees at present. We met many new people, contributed to the community during the contributor day, and all-in-all had a fantastic time.
Learn more from how we give back from our dedicated open source page
We Practice What We Preach
Some companies are all talk and no action. Not us.
In addition to our active community engagement and open source contributions, we also look to improve our WordPress skills every day. We make sure to stay ahead of the curve, from attending courses and seminars to experimenting with new technologies and features.
Real and Fast Support
We are there for you when you need us. And we are there for you also when you do not know that you need us.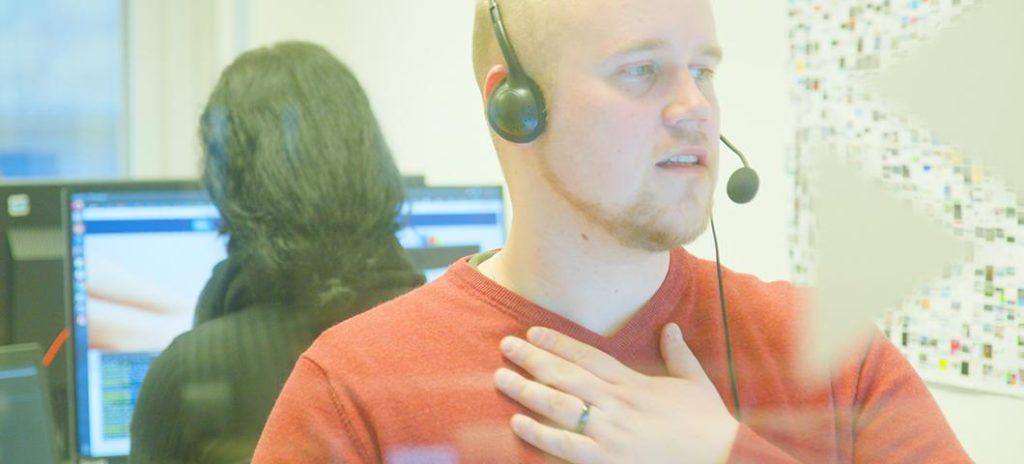 Expert WordPress Support
Why we excel in speed and security, why we are so actively involved in the open-source community and giving back to the world, why we so genuinely care for the future – because we take business personally.
Seravo is well known among our clients and partners because of our commitment and going the extra mile. Over the years, we have learned to turn our strong technical background into a customer service that is understandable and valued by professional coders and techies, as well as by those who have no specialized technical experience.
We are a bunch of Nordic WordPress experts and enthusiasts with a strong background in open source development. In monitoring, we rely on robots, but our customer service consists of real people. We may be nerds, but we speak human too.
Expertise and Enthusiasm
Those are the values that our support team is built on. Some hosting companies operate a tiered customer support technician system, with some support only handling elementary requests and escalating all others, but we took a different approach. Everyone on our team is a WordPress expert, or soon to be expert under the care of our more experienced techs!
Passionate About WordPress
We're enthusiastic about WordPress, customer success, and open-source software. From maintaining thousands of sites daily to developing faster WordPress hosting infrastructure, we genuinely love what we do. Send us a message at help@seravo.com, and let's talk about how we can help with your WordPress site!
We don't hide behind our website and email, and we will pick up the phone if you call us. Our phone support is open during European business hours.
However, we do have to admit that using a help desk to handle support cases is much simpler, and we can resolve issues faster, so we recommend sending us an email first! Especially with more complex issues, the ability to send over screenshots and take a moment to investigate the matter properly often results in better customer experience. Nevertheless, if you want to talk to an actual human being, call us, and we're happy to help!
Expert Services and Training
Sometimes you need more. We have WordPress and WooCommerce experts available.

WordPress Consulting
For simple matter or complex development challenges.

Launch team service
Making sure that the site launch will be a success.

Experts ready
Sometimes you need to be sure, so you might need our expert on standby – we are also available at night time or on weekends.
Need help installing plugins? We're happy to help you. Want advice about NGINX domain redirection configurations? We've got a whole page on configuring NGINX in our developer documentation. Our customer support always gives advice, but there are times when you don't want to waste time learning NGINX configurations or spend time speed optimizing your website. We've got you covered with our WordPress expert services. There's little that we cannot handle, from complicated configurations to troubleshooting severe errors and speed optimization.
Special training for WordPress developers
Seravo offers training for different levels of WordPress users, including developers. The training consists of good advice on how to best use version control and to manage the development process as a whole. If you are interested, please send us a message to help@seravo.com and ask for more information!
Being there for Agencies and Freelancers
We provide you with a platform and tools to deliver projects effectively. After the project is done, you can hand over the management, operations, and support to us so you can focus on the next one.

We work together with multiple digital agencies focused on designing and developing WordPress websites and WooCommerce stores. By choosing us as their technical partner, the agencies will spare both their time and their resources. Would you like to be part of this group?
Partnering with Seravo
As our partner you get
Readily installed WordPress delivered to you right after you make an order on our website
Smooth workflow for your projects and all the tools a developer might need: Git, Vagrant, Composer, WP-CLI and more
Staging environment for the development process
Advanced technical support and a launch team when needed
No more technical hassle with your client: once the project is finished and the site goes live, we are responsible for it to work as it should
Expertise and help in maintenance or any other WordPress-related issue
Someone who will always look after you and your clients
You can choose between reselling and referring, depending on your needs, business model, and clients. Read more about our partnership approach.
WordPress Development Made Easy
Seravo staff consists of experienced WordPress developers, so we have a good idea of what the server environment needs to be like to serve our customers best. Even though we don't do client projects ourselves, we stay up to date by participating in WordPress core development and taking care of multiple WordPress plugins. We also develop and improve the websites of our own continuously.
Seravo's service is optimized to ensure that WordPress websites work as well as possible and that their development is efficient and trouble-free.
Many of our customers enjoy our rapid deployment process: it takes less than an hour to get the environment and version control set up so that the actual site development can start. The time saved here is usually more valuable to our customers and developers than the money saved by using our already cost-effective plans.
Same Tools in Every Plan
All the best WordPress tools are included in all of our plans, including the following:
SFTP connection for file transfers
SSH for command-line access
Git for version control
PHP Composer for dependency management
WP-CLI to manage WordPress from the command-line
Ruby and Node.js to run different developer tools such as SASS, Webpack, and Yarn
WordPress project template based on Bedrock
Vagrant environment developed side by side with Seravo's production environment for local development
Furthermore, there are dozens of commands starting with WP to make the website's maintenance and development more accessible. These commands are specially designed to fill Seravo's customers' development needs. For example, the command wp-load-test can be used to test site performance.
Shadow Environment for Testing and Development
When choosing Seravo as their service provider, the customer gets two websites instead of one. In our environment, every site has its own shadow: a copy that can be used for development purposes, hidden from the general public.
The shadow uses the same address as the actual site. It can be easily reset to the latest production version of the actual website. Switching between the two environments is done through the WordPress admin panel.
Developer Documentation
Seravo offers developers actively maintained documentation where we share tips and best practices of WordPress development. The guide is most helpful to Seravo's customers but can be found useful by any developer working with WordPress.
A cherry on top is the good communication from our assigned contact person

Tatu Sahrman
Co-Founder of Rekki