Seravo has a strong background in Linux and other open-source software. We are an active member of the open-source community, both in Finland and abroad, and have participated in developing various open-source projects.
We have been involved in…
Providing support to Linux users.
Contributing to and translating the WordPress core.
Publishing WordPress plugins.
Participating in the WordPress community as sponsors, speakers, organizers, and participants. Seravo has participated in and sponsored meetups in five different cities in Finland and sponsored and participated in every Finnish WordCamp so far. Seravo also sponsors and participates in similar events abroad.
Developing a wide range of other open-source software. You can find code by our staff around the world in applications such as the Linux kernel, Docker/Moby, Nginx, MariaDB, AppArmor, GraphicMagic, Entr, Redis, Debian, Ubuntu, Helpy, wp-cli, and more.
Contributing to the MariaDB development, as well as hosting the MariaDB.org website.
The Finnish Centre for Open Systems and Solutions (COSS) as a member.
Speaking at and sponsoring Mindtrek, an international conference dedicated to open technologies.
Supporting Finnish coding and quality as a member of Code from Finland.
By choosing Seravo, our customers will also support the development and success of open source software.
We have also made financial contributions and provided volunteer services to support numerous open-source projects and events such as:
Moreover, we support a Finnish coding club for children, and Seravo's Founder Otto Kekäläinen has been an active member in Fuugi's Foundation which grants donations to Finnish open source and data projects each year.
Open Source and WordPress
Since 2014 Seravo has focused on building a premium hosting and upkeep platform for WordPress websites. As the most popular content management system in the world, WordPress is a great example of the evolution, development and business potential of open-source software.
We have taken part in the WordPress community by publishing our own WordPress plugins, translating the system and being actively involved in the local meetups and WordCamps.
WordPress Deployer
We sponsored the WordPress Deployer service between 2017 and 2020 until it was deprecated in October 2020 by Github Actions that achieve the same.which is separate from the WP core but available for everyone.
Sponsored or talked at 15+ WordCamps and frequently at more smaller WordPress events
In 2019 we were strongly involved in organizing the first-ever Nordic WordCamp in Helsinki that took place in early March. Seravo was a gold sponsor for the event, two members of our staff were in the organizing team volunteering and several others were participating in the event as a contribution to the community of WordPress.
We also attended and sponsored WordCamp Europe 2019 in Berlin during midsummer. The event was the single largest WordCamp ever held, with over 3000 tickets sold and more than 2700 attendees present during the event. We met tons of new people, contributed to the community during contributor day and all-in-all had an amazing time.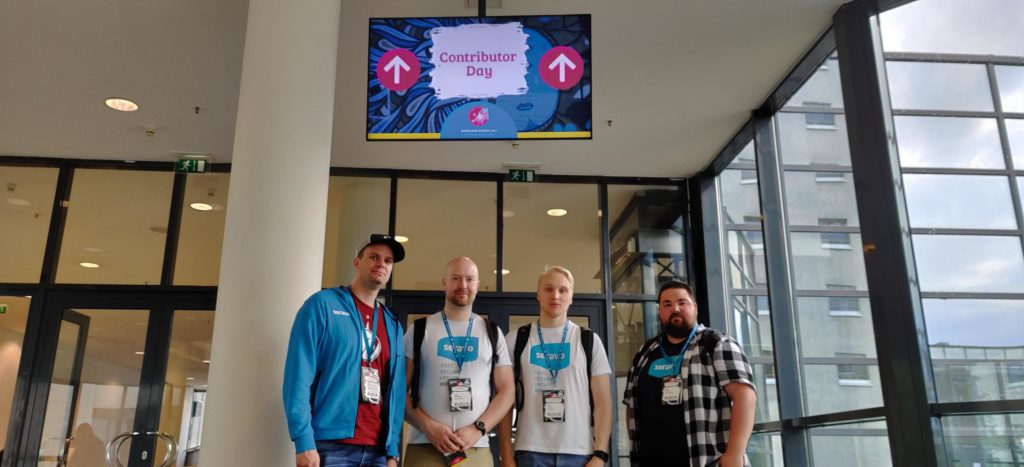 Help us develop our service!
Many components regarding our service are published and completely open for everyone. Our customers are welcome to participate in developing for example our WordPress project base, Seravo Plugin or Seravo's developer documentation.
What is Open Source?
Open source means software that can be used, changed and distributed by anyone and for any purpose. Open source software is often developed in a collaborative manner by communities that consist of professionals.
Using open source is often more cost efficient than closed source alternatives – by choosing the open option one also avoids vendor locks. There are currently more than 200 000 software programs released as Free/Libre Open Source Software (FLOSS), WordPress being one of them. We help our clients utilise this platform.
Git
Seravo's Github account presents all the open software made and published by Seravo.
Events we've helped happen
An important part of participating in the open source community is to help run events as an organizer, sponsor or speaker. Here is a partial list of events we've helped take place by providing contents by giving a presentation or funding by sponsorship:
WP Tampere Meetup December 2014
WordCamp Finland 2015
MindTrek 2015
WP Tampere Meetup December 2015
WordCamp Finland 2016
Mindtrek 2016
WordCamp Stockholm 2016
DigitalTre Meetup 2016
WordCamp Manchester 2016
WP Norrköping Meetup August 2016
WP Tampere Meetup February 2016
WP Jyväskylä Meetup March 2017
WP Stockholm Meetup March 2017
WordCamp Helsinki 2017
Mindtrek 2017
WordCamp Copenhagen 2017
WP Turku Meetup September 2017
WP Helsinki Meetup November 2017
WP Seinäjoki Meetup November 2017
WordCamp Athens 2017
WP Turku Meetup February 2017
WordCamp Stockholm 2017
WordCamp Europe 2017 (Paris)
WordCamp Europe 2018 (Belgrade)
WordCamp Jyväskylä 2018
WordCamp Barcelona 2018
Mindtrek 2018
WP Oulu Meetup December 2018
WP Jyväskylä Meetup September 2018
WP Tampere Meetup October 2018
WordCamp Turku 2018
WordCamp Nordic 2019
WP Tallinn Meetup April 2019
WP Tampere Meetup December 2019
WP Oulu Meetup December 2019
WP Helsinki Meetup October 2019
WP Turku Meetup October 2019
WordCamp Stuttgart 2019
WP Berlin Meetup May 2019
WordCamp Europe 2020 (Online)
WordCamp Finland 2020 (Online)
WP Helsinki Meetup May 2023
WordCamp Lisboa 2023
WordCamp Europe 2023
WordCamp US 2023
WordCamp Finland 2023